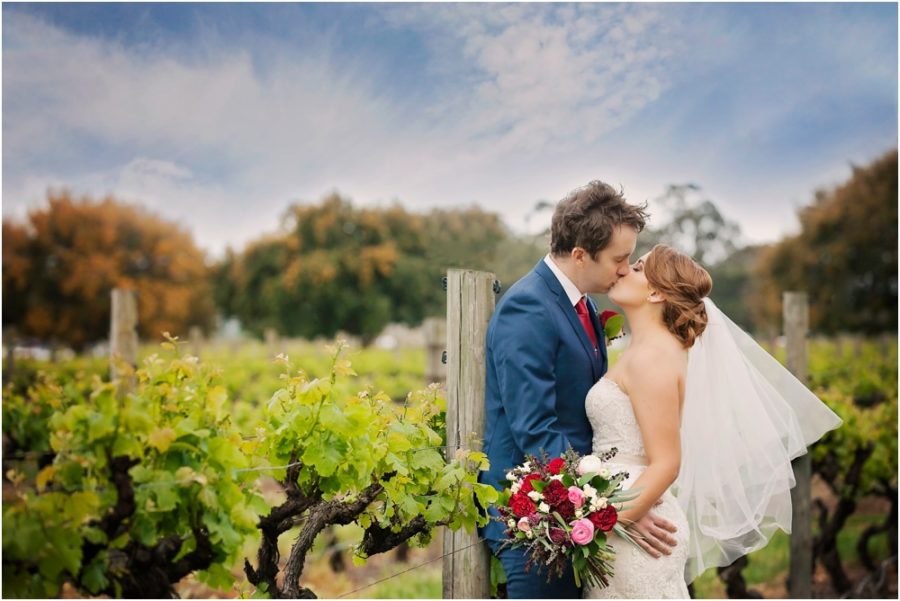 A beautiful little story from Casey …
The wedding was on Friday the 14th of October 2016 (the day after my 27th birthday – easy for Adam to remember apparently!).
We got engaged up in an Air BnB farm stay in Toodyay on June 7th 2016. We had been together for approaching 4 years at this point and so the pressure of a proposal was quite large on Adam (partly from me haha). Adam planned a weekend away for us where we could just have some quality time together and somewhere that was pet friendly so we could bring our "furbaby" Ava along to enjoy the break with us. We headed up on the Monday and had a walk around the property before enjoying some wine and cheese and a movie, it was a fairly quiet night. On the Tuesday (the 7th) we took Ava for a big walk along the Avon River that runs through town, I think it was about 10kms return on fairly uneven terrain which was quite a tiring exercise in the end. We had planned on enjoying a champagne in the outdoor spa on the property on our return but it was taking too long to heat up so we ended up forgoing the spa and settling in front of the fireplace to enjoy our champagne instead. I realised a bit belatedly I think that Adam had left, I initially thought it was to get some more firewood but then I heard the car door shut from outside the house and thought that was a bit strange. Unfortunately this made me a bit more curious than he was hoping as he came back into the room and I noticed a square box outline through his jumper pocket! Luckily for me Adam didn't waste much time in getting into the proposal at this point and told me he had a very important question to ask me and then proceeded with "will you marry me" to which he got a big YES!!! Ava slept through the whole thing incidentally!
From there it was a matter of choosing a date. Adam had always wanted to get married in a cooler period of the year (without being properly in winter) so we had previously discussed April or September / October as roughly when we would like to have our wedding day. Adams recently (at this point in time) engaged older brother had been planning on a Tuscan wedding the following September, so this ruled out the following September as an option for us, and we wanted to spread the cost of a wedding and a trip to Europe over more than 6 months so we toyed with the idea of attempting to get married in September / October 2016! Well from here everything just fell into place. The venue that we wanted had some dates available, the photographer (Carri at All About Image) that I had wanted since a good friend's wedding in 2012 was available and the makeup artist that I also wanted was available. From here I wasn't too fussed about the other details and found the organisation side of the day quite overwhelming and not entirely fun. I tended towards the simplest option and we used a lot of referrals where possible (hair, DJ, Celebrant and florist).
As you can imagine the time flew by and suddenly our wedding day was upon us. The boys stayed the night before at The Vines and the girls were lucky enough to stay in Guildford at my aunty's home and we had a lovely time. The day before prep was made even more special being my birthday and having the opportunity to spend that with my closest friends was just amazing.
The morning of the wedding I was a bundle of nerves, totally illogical as there was no specific detail that I was particularly worried about, but I guess the enormity of the day was on my mind. It was just the most unreal morning of my life. We were up at 6:30 to be ready for my amazing hairdresser to arrive at 7, she did a phenomenal job on my hair, I couldn't have been happier! From there the other girls all had their turn and we rotated through makeup too. My makeup artist was just amazing and my makeup came out better than I had even imagined.
Quickly the morning passed and my photographer and videographer arrived and from there I knew I could relax as Carri would take care of the rest and I could just relax and enjoy the day.
We had some gorgeous photos taken with my immediate family and my bridesmaids at my aunty's house before heading over to the venue.
Sandalford was just stunning, I couldn't have been happier with this venue choice and the staff were beyond amazing with their service and attention to detail. The last few nerve wracking minutes passed as each of my girl friends headed off down the aisle before it was my turn. Holding firmly onto dad's arm we headed across the lawn and it was just the most unreal sight; over 100 people who I (mostly) highly value all there to witness the biggest day of my life, was just amazing. Even more special was seeing Adam for the first time and feeling a sudden calm over all of my nerves.
Our ceremony was so special, our celebrant Kirk did a wonderful job and kept it short and sweet and full of meaning.
After the ceremony we spent some time having some family photos before heading off to have some as a newly married couple and with our bridal party. This was a lot of fun and the first time we were able to have a moment together to take everything in.
From here the night progressed and we headed into the reception. We were both a bit tired at this point and we had a laugh when our DJ approached us during entrees and told us it was okay to go and speak to the guests but at this point we just wanted to sit and enjoy ourselves! We soon got our second wind though and I feel like the night was a blur! We had some wonderful speeches, a great first dance (and with dad too!) and lots of fun in the photo booth with our guests. We snuck Carri away for some more photos with some sparklers and under the rain, cannot get over how amazing those ones turned out! Before heading back in to the reception for some more dancing and hanging out with our guests.
Then just like that the night was all over! It was honestly the most magical and surreal day of my life, I still look back and wish we could do it all over again!
We stayed nearby at the vines that night and then headed to Bali for a much needed relaxing week of endless food, drinks and swimming in the resort pool to re-charge our batteries before real life hit us again.
View Casey and Adam's Sandalford Winery Video Here
Grooms prep – Vines Resort
Hair – Flawless Essentials
Ceremony and Reception – Sandalford Winery – Merlot Lawn and Oak Roam
Photobooth – All About Image
Video Afrotastic Productions for All About Image
Celebrant – Kirk Goodsell
DJ Jason from Dream Wedding Entertainment
Flowers – Bloom and Co.
Honeymoon – Bali
Dress – Tuscany Bridal